For the most part, if you run a small or medium-sized business (SMB) your company cannot completely support hardware needs for your computer tasks. This is true regardless of how long your company is in business. The best way to offset this lack of infrastructure is by using an IT managed service provider.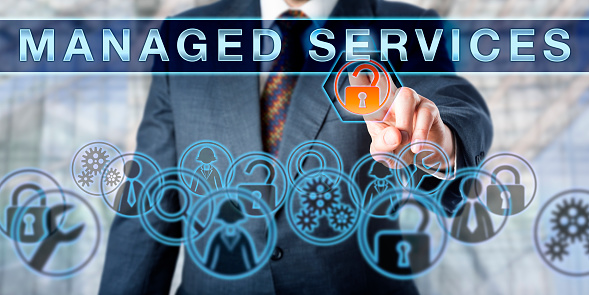 Some firms think that since they have an IT department with one or more employees there is no gain to be had from an IT MSP. There is a good chance these firms are mistaken.
In many cases, IT departments are swamped with daily tasks and the talent in your IT department is being wasted. The research company, Gartner, reports that 65% of SMB IT budgets are devoted to routine IT housekeeping tasks. As a result, IT investments might not improve company operations, efficiency, or IT security.
SMB Benefits of IT Managed Service Providers
There is no denying the importance of Information Technology to business operations. From payroll to accounts receivable, from the plant floor to the supply chain, and everything in between, IT makes routine processes run smoothly. In addition, IT resources are more frequently devoted to online marketing and advertising. Following are some of the ways that outsourced IT can help your company prosper.
How Outsourced IT Can Help Your Business Prosper
Savings accrue to SMBs by outsourcing IT in the following way.
Save Money ­– cash savings come from reduced spending on IT infrastructure as well as lower outlays for IT personnel. The reduction of capital expenditures on IT infrastructure, coupled with freeing space that might be used for IT server racks and other IT equipment is a significant benefit. In addition, many functions such as Customer Relation Management (CRM), accounting packages, email, and other large costly programs can be acquired from IT MSPs on a subscription basis. This reduces cash outlays and substitutes a monthly subscription fee in their place. In addition, most, if not all the functions performed by in-house IT staff can comfortably be done by a qualified MSP. Another benefit concerned with IT costs is that when a company uses an MSP the monthly costs are predictable.
Expertise and Advanced Technology – When you sign on with an MSP the company you choose has IT as its core competency. If your company has master carpenters creating handmade furniture, it is likely that your core competency is carpentry – not IT. The MSP's core competency is IT, and likely they do it better than most SMBs. Having an internal IT function does little to enhance your business's core competencies – and your IT MSP can do it better and cheaper than your company can since it has a group of IT experts working for it.
Increased Attention to the Company's Core Business – Unless your company is an IT company or perhaps a research company, IT is not among your core competencies. By going to an MSP, your company is freed to direct its focus on its core competency be it making shoes, serving food, or doing bookkeeping.
Risk mitigation – The threats against cyber security are evolving faster that a single company can keep up. When you outsource IT, you gain a company that has 24/7 technical support, advances hardware protection against viruses and malicious software, and updated and patched software to close IT system vulnerabilities.
Help with Regulatory Compliance – Every business must comply with legal statutes and regulations. From keeping customer data private to record keeping for the Sarbanes-Oxley Act, an MSP can help your company understand how regulations and laws affect you and help your company stay in compliance.
Supplement Existing IT Staff – If your business already has an IT department, consider using a managed services provider as a supplement. By taking routine tasks away, such as 24/7/365 system monitoring, maintenance, and support, your internal department can spend time on things that help grow your business not just maintain it.
It is a fact that many SMBs employ top-notch IT personnel. It is also a fact that these same employees are often filling their days with routine work rather than using their talents to help grow your business.
For more information on how your business can prosper using an IT managed services provider contact in . or today.