With the right apps in place, your iPad can function almost exactly like a laptop, and make getting work done on-the-go easy and convenient. A mobile productivity suite allows you to work on projects and documents, share files with coworkers, and even collaborate on a document right from your tablet.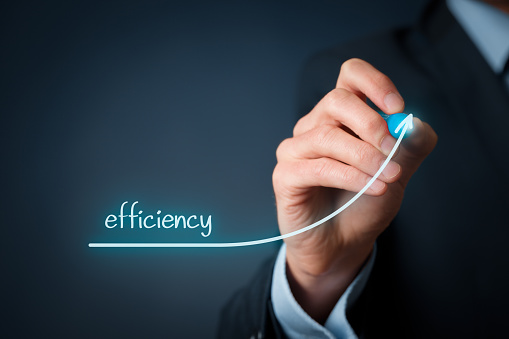 For iPad users, there are three productivity suites to choose from – the iWork suite (Pages, Numbers, and Keynote), Microsoft's Office suite (Word, Excel, and PowerPoint), and Google's G Suite (Docs, Sheets, and Slides). All three suites have their advantages and strengths, and their own shortcomings. We've compared these suites in five main performance areas to see which suite offers the best solution for today's mobile workforce.
Core Capabilities
All three suites were designed to work cross-platform, offering access from mobile devices, computers, and the web. A subscription is required to gain full use of Office for your iPad, but free versions of the apps are available. iWork is free to all iPad users, and G Suite is free with a Google account, with a subscription available for government or enterprise use that offers added capabilities.
iWork
Has its own file formats, but aside from some minor formatting issues related to font does a good job of importing and exporting standard Office file formats.
Can export files to PDF, as well as ePub and CVS – something neither Office nor G Suite can do.
Can print to AirPrint-compatible printers.
Auto saves your documents as you work on them.
Allows you to password-protect individual files – something neither Office nor G Suite can do.
Allows you to easily revert to a previous version of a file.
Is fully compatible with iCloud, and uses a sync-and-store service that allows you to access files offline, which makes it ideal for use on an airplane, or anywhere else a connection isn't readily available.
** For the bulleted lists, let's add periods to the end of each line.
Microsoft Office
Does the best job of maintaining a consistent file format as you move between devices.
Allows you to export files to PDF, and make use of AirPrint-compatible printers.
Allows you to make a copy of an open document.
Auto saves your documents as you work on them, and allows you to disable this function as desired.
Allows you to revert to a previous version of a file.
Is fully cloud compatible, using Dropbox for storage, and a sync-as-needed service. Files can be saved directly to the iPad, but it has to be done manually.
G Suite
Uses its own file formats, and can import and export standard Office formats with limited success. Formatting and editing are severely limited.
Allows you to export files to PDF, and make use of both AirPrint-compatible printers and Google's Cloud Print protocol.
Allows you to make a copy of an open document.
Auto saves your documents as you work on them.
Has no file revision capability.
Is fully cloud compatible, using Google Drive for storage and a sync-as-needed service. Files can be saved directly to the iPad, but it has to be done manually.
Word Processing
All three suites provide basic functions and features, such as the ability to format text, paragraphs, and lists, search and replace text, insert and edit tables, insert images, and run a spell-check.
Google Docs has very limited spell-check capabilities, only able to check files saved in an Office format. This is problematic, as editing a Word file in G Suite is very difficult. Basically, Docs can't run a spell-check on the iPad. Revisions and other basic formatting are unavailable as well.
Both iWork Pages and Microsoft Word offer a wide range of formatting options, including footers and headers, text boxes, and columns, and both provide ruler views. iWork Pages does not support footnotes, but offers a better selection of preformatted tables than Word. Word allows you to lock specific users from making edits to a certain document. None of the apps allow for paragraph or style creation, and preserve the format of the original imported file.
Spreadsheets
Much like their word processors, Microsoft Excel and Apple Numbers offer more functions and features than Google Sheets. Excel and Numbers allow you to access almost all of the features available in the desktop versions, with the exception of more advanced Excel features like pivot tables and macros. Sheets and Excel have a better selection of formulas than Numbers.
Numbers offers a richer set of formatting options for tables and images than Excel does, and all three offer a great selection of data formats. Numbers has a more adaptive onscreen keyboard, but only Excel allows you to sort contents within selected cells, columns, and rows.
Presentations
Google Slides is by far G Suite's most capable app, but both PowerPoint and iWork Keynote are much more sophisticated. All three allow you to create and edit slides and their content, add speaker's notes, include tables, apply borders to text boxes, and apply spacing.
Both PowerPoint and Keynote support dozens of build effects and slide transitions. They also provide access to all of the same table, charting, and shapes tools as the desktop version. Other PowerPoint and Keynote features include:
Presentation auto play.
Annotation capabilities using a simulated laser pointer to highlight information as you present.
The option to add in videos directly from your iPad.
One of Keynote's advantages over PowerPoint is the option to associate a playlist from your Music app to your slideshow. Keynote also allows you to publish a presentation online using Keynote Live, and displays your upcoming slides and speaker's notes directly on your device (iPad, iPhone, or Mac), not in the presentation itself. PowerPoint allows you to control your presentation from your Apple Watch if you're using your phone to control it.
File Collaboration
Document sharing is available through all three suites, and all three require users to have an account to edit the document. You are able to invite users to view or edit, or simply send a hyperlink to the desired shared file.
iWork will allow Android users to view documents, but those users can't edit or interact with the document. iWork documents can only be edited using a PC or Mac browser or an iOS app. Office documents can be accessed and edited from any device or platform, as can G Suite documents.
Office allows for multiple users to view and edit a document simultaneously as long as all of the users are accessing the document through a web browser. Only one user can edit a document at a time using the mobile app, while both G Suite and iWork allow simultaneous editing from both browser and mobile. iWork also provides an icon to remind you that the document you have open is shared, something neither Office or G Suite does.
iWork allows you to password-protect a shared document, and revoke access to that document at any time. Office gives you the option to manage individual access to corporate documents shared with other corporate users, while Google provides one-at-a-time access to corporate files. While both iWork and G Suite have easier user interfaces, Office is better suited to multiplatform sharing and user collaboration.
After comparing these three options side by side, iWork and Office both make excellent cases for themselves, while G Suite comes up short right across the board. Whether iWork wins out over Office, or Office stands out as the obvious choice, depends entirely on your business' needs.
Office provides the best cross-platform experience, while iWork might be more comfortable for users in a Mac-centric workplace. Improvements to OneDrive's compatibility also make a strong argument for adopting Office as your iPad suite. At the end of the day, this decision is no different than any other technology choice for your business; it all comes down to what you need your technology to be able to do for you.
Want to learn more about the productivity and collaboration tools available for your business? Contact us at or . We're the IT professionals businesses in trust.